I want to thank ignite18@MarvelouslyMismatched from blog Marvelously Mismatched for nominating me for the Real Neat Award. This is the third time I have been nominated and I am proud to be doing this. Once again, thank you and I am also grateful.
Here are the rules:
Put the award logo in your Blog
Answer 7 questions asked by the person who nominated you
Thank the people who nominated you, linking their blogs
Nominate any number of bloggers you like, linking their blogs
Let them know you nominated them (by commenting on their blog)
Ask the bloggers 7 new questions
The Questions:
1. If you could hang out with one anime character for year who would it be and why?
I would probably hangout with Haruyuki Arita from Accel World because he and I have one thing in common: we are both gamers. I would love to either play with or against in a video game.
2. What anime would you love to see remade or touched up?
I would like to redo the Rurouni Kenshin anime. I haven't read the third arc of the manga but instead of seeing Kenshin vs Enishi in anime format we got filler arcs and the last episode left us with one those "the adventure still continues…" cliche.
3. What anime food would you die for?
I would love to eat some ramen from the Naruto series and try anpan from Clannad. 4. If you weren't into anime what would you be into?
I would most likely be into reading comic books. Marvel, DC, Archies, etc.
5. Which anime character would you marry if you could and why?
I would probably marry Sonico from Super Sonico. I heard she is into music and I would like to have a wife that loves music. She also looks very cute and innocent.
6. What anime character from what anime made a difference to you? How did this character affect you?
It is a tie between Luffy, Naruto, and Ichigo from One Piece, Naruto series, and Bleach. These three heroes showed me that anyone can do the impossible if you put your heart into it. They don't know the meaning of giving up.
7. What anime character would you get in deep trouble with and why? What would you do to earn the anger of everybody or get yourselves in a situation you can't see yourselves getting out of?
Youhei Sunohara from Clannad. He would get me into trouble because of his pranks and ideas. He would probably convince me to trick people and make me believe absurd beliefs. In the anime, he gets treated as a punching (or kicking) from Tomoyo for believing she was a boy.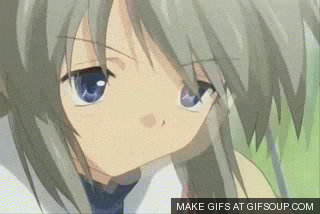 Nominees I have chosen…
My 7 Questions:
1. What was the best anime you see so far?
2.What was your worst ever?
3. When not watching anime, what are your other hobbies?
4. What is your favorite dessert?
5. If you play video games, what is favorite console?
6. What kind of music do you like listening?
7. If you could go anywhere in the world, fiction or nonfiction, where would you like to go?