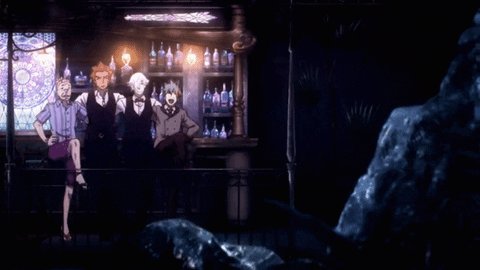 Sorry for the delay. I want to thank Tessa for this Sunshine Blogger Award. I appreciate this award and once again, I want to apologize for not doing this sooner.
Rules
– Thank the person who nominated you in a blog post and link back to their blog.
– Answer the 11 questions sent by the person who nominated you.
– Nominate 11 new blogs to receive the award and write then 11 new questions.
– List the rules and display the Sunshine Blogger Award logo in your post and/or on your blog.
The Questions
What got you interested in blogging?
I mentioned this before but I don't mind saying it again. I didn't plan to blog, I was forced to get this account for a college class. We had to use this to get graded for work. After I pass the class, I never came back to this blog. However, once I was reaching the end of 2015, I decided to use this again to share my passion of anime and manga and other nerdiness.
What do you wish people knew about you without you having to tell people?
I wanted people to know about me without telling them, I would like to say that even though I always appear optimistic and caring online, sometimes I wish I can say that I am either stressed out or just need someone to pat me on the back. Sometimes I wish I had someone out there comforting me whenever I get down in the dumps.
What first got you interested in anime and or manga?
In anime, I got interested from watching cartoons as kid. When I was little, I would watch cartoons like Looney Tunes and Disney. When I saw Pokemon from Kids WB, I got hooked. Later in my elementary school, I got into to serious anime like Dragon Ball and Dragon Ball Z.
In manga, I got into that because my sister bought me some Yu-Gi-Oh! manga. She knew I like the anime but when she got a giftcard from an old bookstore called Walden Bookstore, she wanted to buy me something. At first I was hesitant but after I read the first volume, I wanted more volumes.
Are you an early bird or a night owl?
I am partially both these birds. I like to stay up late on weekends but not much on week days. I don't mind waking up early in the morning if I know I have to do work or chores. Also, I enjoy getting things done.
Do you plan or wing your blog posts?
I usually do both but it depends. If I want to do a review or write the news, I just do it. On my Friday posts, I usually have things planned out and scheduled on a specific time. Sometimes on these Friday posts, I plan a special themed posts.
If you could save three things from a fire in your home, what would they be? Ps size, weight and quantity don't matter.
If I could save three things from a fire, I would grab 3 things:
I would save my photo album collecting some precious memories
My teddy bear from my childhood
My Bible
Do you have any anime merch? (this includes manga) If yes, what was the very first thing you bought?
I actually do have merchandise. If I remember correctly, I bought an umbrella based on the Ichigo's sword from the anime Bleach. You can see the pictures here at my post. This was one of the coolest thing to buy, but my family thought it was weird to see me buy an umbrella lol.
How open are you in the real world about your feelings towards anime?
I can be hesitant when I bring up my feelings to anime but I usually whenever I a confident, I say it with assurance. I just admit that I enjoy anime. It's better than hiding my interests and keeping it locked up. I enjoy anime and I want to people to know about it.
Have you ever cosplayed or wanted to? If yes, what character and why that character?
I always dreamed of cosplaying a character. If I wanted to cosplay as an anime character, I would like to cosplay as Ken Kaneki from Tokyo Ghoul.
If you knew money was not an issue, what is the one thing that you would do for yourself?
If money wasn't wasn't the problem, I would like to build a a room dedicated to my anime and manga stuff. I want to build a library collecting my manga and build shelves for any anime figurines.
What is your favourite post that you have written on your blog and what is the most popular post on your blog?
My favorite post I ever written was my reflection post about my life in college and where does the future hold for me. The post is called "Graduation – My School Life and The Future Story time". I think in my blog, the only post I see that gets the most popular view is my post about the clothes for the One Piece movie "One Piece Film: Gold". The post is here, "One Piece Gold updated costumes". (probably because there are people who like to look at Nami and Robin).
11 Nominees
11 Questions
What is one anime. manga, or light novel series you ever regret watching or reading?
Besides anime, manga or light novels, what are your other hobbies?
Ever wrote something in your blog when you are mad or upset? If so, how does it feel compared to other days?
Can you imagine yourself living in life without anime?
Do you play any video games? If so, what do you play mostly on?
Do you have a series in which everyone should watch?
In which format do you prefer to watch anime? On DVD? Satellite TV? Streaming?
What is one anime series you would not want to be in?
Which series surprisingly made you cry, upset or disturbed you?
Is there a series, in your opinion, you believe is over hyped?
What's the most difficult part of blogging at your blogs?