Hey everyone, this is Matthew of Matt-in-the-Hat. I don't think I needed to introduce myself but I still did it to have a proper introduction. 2016… this has been a crazy year. We had events happened all over the world and even us. Most of these events were either good and some were bad. If I was to write a list of good and bad things of 2016, there would be more than two parts of this post. I won't go into details but I guess you could say that we some interesting moments, some were major and others were minor. As we say goodbye  to 2016, we will go through many changes for 2017. Some maybe good, while others get the other end of the stick. For me, my life has been a roller coaster.
I recently graduated from my University and ended with a Bachelor's Degree in English Writing, I had two jobs working from full and part time for the season, I saw some amazing movies from Marvel and DC, my sister got proposed and will be getting married in January, and my brother has the skills to play the piano.
As my life gets busy, I have to ask myself, what about my blog? Will it remain the same or will it also evolve? I took some time to think about and I came up some ideas on what to do. I actually have ideas I want to try out for my blog. I want to go far in my blog and try to do new things. I wanted to do a top 5 or 10 post but I decided that this will be just a top posts without limitations.
Reviews – Spoiler Alerts!
If you have been reading my blog, you will notice how I review anime. Whenever I review anime or manga, I always mention that I will not spoil the story/plot. I avoid spoiling a series so I don't have to take away the pleasure of watching or reading a series. The only exception is if I am reviewing something that's a season 2 or some other form of sequel.
My plans for 2017 is start review anime/manga with spoilers. I think spoiler reviews will make discussions much easier to talk about and it will be easy for people to let people know which posts are spoilers and which ones are not. I believe this will also make reviewing a series easy to do because I won't have to hold back on information. Also pn the plus side, I will have an excuse to reread or watch a series again multiple times.
Interviews
This idea first came up after I had an interview with Anime Girls NYC. She interviewed me and wanted to share everything about me to everyone else. When I first got interviewed, I was really surprised. I never thought anyone would be interested in knowing me. I am just a average blogger who loves anime, manga and video games. The fact someone was interested in me made me feel special. With this moment, I always felt like getting to know know other bloggers out there. I enjoyed watching livestreams from Lita and I like learning about Shay of Anime Reviewer Girl. It could be written or talked but I think it would be nice to get to know people better if I had a moment of time to have a one and one discussion.
First Impressions
This is another idea I want to do in regards to doing anime or manga reviews. I want to try and do it fast reviews on series and give my opinion. If it's good, I will say "continue on", if it's not, I will think of something depending on how the beginning is. For all we know, a series with a bad start could end with a great ending or a series with a great beginning can have a terrible ending. Overall, I want to do Episode 1, chapter 1, volume 1 or 1-hour impressions.
Reviewing REALLY long series
The anime series I ever reviewed that was longer than 24-26 episodes was Rurouni Kenshin. Rurouni Kenshin anime had a total of 95 episodes. Besides that anime, I think we familiar with the Big 3, One Piece, Naruto and Bleach (this is the Big 3 I know). I want to talk about long-going anime series like One Piece or whatever you think it too long and still going . Almost like my First Impression idea, I was thinking of watching the first season of anime and then give my opinion on it. Anime like Fullmetal Alchemist and Bleach that has an ending will be treated like Rurouni Kenshin: watch from beginning to end.
Anime Haul!
I recently shared this on Twitter but I recently bought the Kill la Kill Omakase Box on the Christmas sale at Rightstuf.When I got this treasure chest filled with goodies, I was excited. I held it like a greedy pirate and hid it from everyone. This box contain the Kill la Kill goods for any fan that wanted to hold one. Well, you get the picture. I want to review anime box merchandise like Omakase and Loot Crates.
Recommendations
To make my reviews more interesting, I was thinking about recommending other titles. If an anime/manga series is good, I would recommend other titles to help people continue to enjoy the taste of a good series and help save them from feeling empty of not having anything to see. If a series is bad, I would recommend a title that you are better off seeing; this can help save some time.
YouTube – For game reviews
Many of you may not know this, but I have a YouTube channel and I use to record gameplay videos from PS4. I don't think I am planning to do anime reviews on YouTube or any other topic or discussions. I do have in mind of showing off the gameplay of a video game to support my video game reviews. It won't be good as watching other gamers but it's something and you don't need to worry about side conversations. You just watch.
Making Money!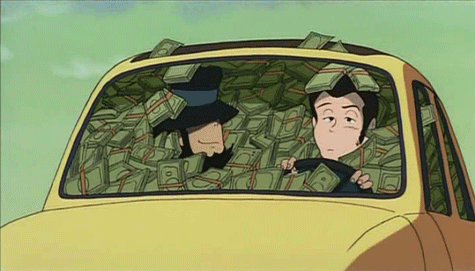 Just like other bloggers, I want to be able to make money on my blog. I enjoy writing and I think it will be nice to see my work being paid off. This would mean, you will have to remove any ad block plug-ins to help me out. I may also try to sign up for anime affiliate programs such as Rightstuf or Otaku Mode.
So far these are my goals for 2017. I want to make Matt-in-the-Hat a super, awesome blog. I may not be able to complete them all but I want to make it even better. Thank you for reading and let's see where 2017 leads us!