I recently did a top 5 on strongest human men and now I am going to do a top 5 strongest human women!
Just like men in anime, there are some women out there that are so strong that can make men shake in fear. Sometimes, they can be relatable and can exist in the real world. In anime, women can look both cute and scary or beautiful and dangerous. In this list, I will be listing my choices for top 5 strongest girls in anime. Just like my male list, these girls are humans; no aliens, monsters, demons or androids, ONLY humans! This list is not ranked either and no spoilers here either.
5. Tomoyo Sakagami (Clannad)
Just because Tomoyo looks like a cute 11th grade high school girl does not mean she is soft. She looks like a kitten but she is actually a tiger. First shown in the first episode of the series, we get to see how strong she is when she takes on a biker gang invading the school on her own. Later in the series, Tomoya's best and idiot friend Yohei tries to prove he's better and tries to attack her but ultimately fails and ends up getting kicked hard like a punching bag. Deep down, she is caring and sensitive girl but if you mess with her, get ready to sign your death wish.
4. Videl (Dragon Ball Z)
First appeared in the Great Saiyaman saga or Beginning of Dragon Ball Z Kai: The Final Chapter, Videl is a High school student with Gohan in Satan City. She may look cute but she's a fighter (like Tomoyo from Clannad). Since she is the daughter of the "strongest fighter" Hercule, she can be dismissed out of school and fight criminals and protect the city. Unlike her dad, she starts out with an attitude and always to ready for fight. Everything changed when she meets the mysterious superhero the Great Saiyaman and later found out his identity. In the end, Videl is the type of girl you would not want to mess with in the hallways or in public. You are better off fighting Hercule instead.
3. Sango (Inuyasha)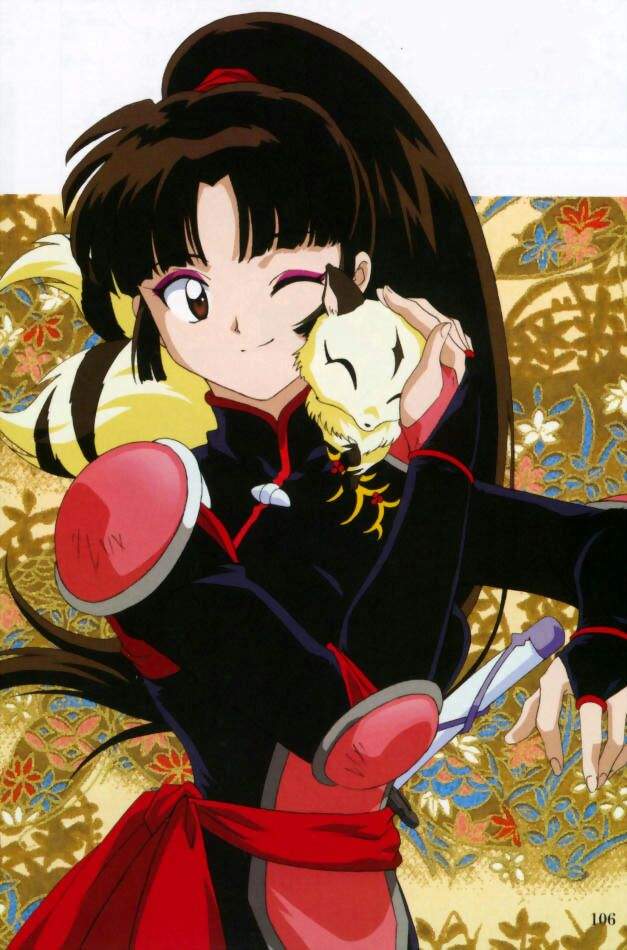 With a face like hers and pet, you will wish that she can stay like that forever, unfortunately it is temporary. Sango is a demon hunter in Inuyasha and just like her title and family, she is trained to kill demons. Wielding her bone-boomerang Hiraikotsu, she can break bodies and cut through flesh like paper. She also has her pet Kilala to help her fight. Kilala can transform from a cute pet to a killer sabertooth cat that can fly and emit flames. You have to be brave like Miroku to marry this girl and not be perverted, otherwise, get ready to be slapped.
2. Michiko (Michiko & Hatchin)
Any girl from around the world can be strong, just look at Michiko. Taking place in a fictional world of Brazil, Michiko helps an orphan, abused girl find her missing dad. Along the way, her father's enemies and rival gang shows up and tries to track him down and the police are after Michiko as well. Michiko is a woman in which I believe all men should be careful. In one of the episodes, she gets surrounded by men and try to hit on her, in the end, they all got literally hit and smack upon their heads and faces. Michiko is very beautiful woman regardless but I wouldn't want to be in her situation every day.
1. Vorona (Durarara!! x2)
Want a girl to excite your life, then check out Vorona. Vorona is the Russian daughter of an Arms Dealer and trained as an assassin in a early age. Her duties in the series was to kidnapp a granddaughter from a rival gang, it was unsuccessful thanks to the Dullahan Celty and the strongest man Shizuo. Later in the series, she worked with Shizuo and help him with some duties. We see her incredibly strong when she gets surrounded by kidnappers and greedy men and almost killed them. It's not wise to pick a fight with an assassin especially if you rely on numbers. Vorona's goal is to kill Shizuo and not waist time on killing small fry. If you are not Shizuo, you better be grateful that you didn't die.
That's my list of top 5 strongest human girls. What are choices and who do you think is the strongest girls? Comment down below and remember that is has to be humans.