You probably seen this in hobby stores or game stores like GameStop, Box Lunch or even Hot Topic. They are called Pop figures and thanks to the company Funko, many characters from video games, cartoons, anime, comics and other pop culture genre have been converted to these bobble head like figures. Some actually are bobble heads while others just have a stiff head. Think of these as the bobble heads from sports like the NFL and NBA, but instead of collecting your favorite athletes, you're collecting your favorite characters from Marvel, Dragon Ball, Batman or even Rugrats. I will be sharing you my collection and I will give you a brief description about how I got them.
My collection:
My 1st figure: Kirito from Sword Art Online
Kirito is my first ever figure I got from the Pop Animation series. I got him last year for my birthday weekend to Little Tokyo. In my tweet, I mentioned I got him from an anime merchandise store called Anime Jungle. I didn't think I was going to get into collecting these figures, so I only bought Kirito and not Asuna. That was my regret, I didn't buy Asuna!
My 2nd figure: Donald Duck from Kingdom Hearts (Hot Topic Exclusive)
On my actual birthday, I went shopping with my mom and I went to visit Hot Topic. Hot Topic is a great place if you enjoy nerd hobbies or music. If you like anime, Marvel, Harry Potter or other things, this is your place. While browsing, I found a Donald Duck exclusive figure from Kingdom Hearts. Since I love Kingdom Hearts, I had to get him. This is where I found out that there are other figures that can only be purchased from specific stores. If you wanted this version of Donald, you can get him from Hot Topic; the exclusive figure is Donald in his Wizard appearance in the Disney Castle.
3rd figure: Goofy from Kingdom Hearts (GameStop Exclusive)
I got another exclusive and it's from my favorite store, GameStop. I don't remember exactly where I got him, but it was on a random day at GameStop. Like Donald, this is an exclusive figure and Goofy is wearing his Knight uniform.
4th figure: Tony Stark w/Iron Man Helmet from Spider-Man:Homecoming (Summer 2017 convention exclusive)
I won this figure from the Pop Funko Twitter page. If you have Twitter, you can follow this account and keep up with the updates on the figures and sometimes they do Q&A threads and even hold daily contests by following them and retweeting their tweets. If you win, they DM you and ask for your address to where you want your prize to be delivered. I won this figure last year during the time where Spider-Man: Homecoming was trending. Unlike the previous figures, this is a bobble head.
Christmas Gifts from 2017!
5th, 6th, and 7th figures: Asuna, Drax and Sora
Asuna from Sword Art Online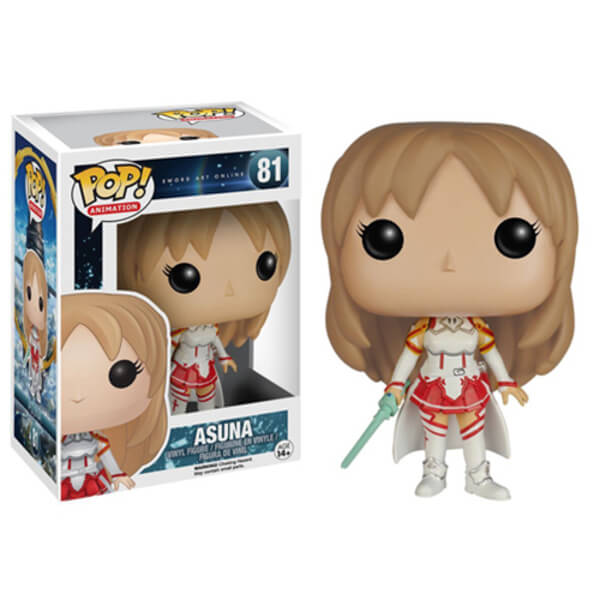 For Christmas, my friend Allison, got me this Asuna figure from Sword Art Online. She knows that I like these figures and Sword Art Online is favorite anime, and I was happy to get her for my Kirito. Thank you Allie!
Drax from Guardians of the Galaxy Vol. 2 bobble head (with gun blaster)
My younger brother got me Drax (with a gun) as another Christmas present. I really like Guardians of the Galaxy and my favorite character is Drax because I can relate to him taking things literal and I like strong characters. My family tends to associate me as him. Thank you bro!
Sora from Kingdom Hearts
I got Sora as a gift my friend and brother in Christ, Ezra. Like Allie, he knows I like Kingdom Hearts and having Sora is a key member to Donald and Goofy. I am happy to see Funko update the characters because they also released figures of Kairi, Riku and a heartless.
8th figure: Super Saiyan Trunks from Dragon Ball Super (Hot Topic Exclusive)
I got Trunks on a day I was not expecting. Around the same time where the game Dragon Ball FighterZ was released, I got Trunks from Hot Topic (the same place where I got Donald Duck). Dragon Ball FighterZ came out on Jan 26th on a Friday. This version from the anime Dragon Ball Super. I also got Dragon Ball FighterZ and it's a fun game.
9th, 10th, 11th and finally 12th: Sonic, Shadow, Dr. Eggman and Crash?
What's up with me and unexpected moments?! I got 4 more figures on the following day after I got FighterZ. On January 27th, I went to a mall with my family after helping out with my sister and her husband. In the mall, we walked into a hobby store resembling Hot Topic called the Box Lunch. This had things like Disney, anime and cartoons. They were having a sale that if you bought 2 Pop figures, it will only cost $8. My parents persuaded me to buy 4 figures and these characters were from video games that I enjoyed.