It's been a while since we heard any news of the upcoming game Kill la Kill the Game: IF. Besides the obvious news that Ryuko and Satsuki is playable and the game is going to be a fighting game and a gameplay video, we got some news from Crunchyroll! Revealed in the Japanese magazine Famitsu, it's confirmed that the two characters from the student council will be added to the game. The characters Ira Gamagori and Uzu Sanageyama will be playable. The picture scanned is pretty small, but you can clearly see them. The game will be released for PS4 and PC in 2019.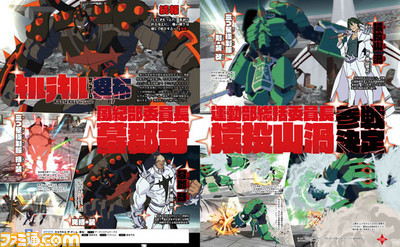 Even though it is mentioned that the upcoming One Piece: World Seeker is delayed in 2019, we are still getting more news from Bandai Namco. It's been revealed that One Piece creator Eiichiro Oda helped design and create the new characters for this upcoming video game. The new characters is named Isaac and the other is Jeanne. Here is the description and voice actors:
Isaac (CV: Rikiya Koyama) is the warden of Jail Island. He's a scientist who used the powers of science to create the abnormalities of the island. He was previously a Marine and boasts formidable strength in combat. His true objective is a mystery.
Jeanne (CV: Ayumi Fujimura) A leader of an anti-Marine group who shares love for the island. She knows about the rift between the people living in the urban parts against those living in the rural parts of the island. She aims to go up against the Marines that used science to change the island.