Howdy fans! Welcome back to another fun filled post from yours truly. Some of you already know this, but I like to collect stuff. I collect anime, manga and video games. If I was a Marvel character, I would be the Collector. One of the things I enjoy collecting is Pop Funko figures. You probably seen these bobble-head like figures in stores like Hot Topic, GameStop and Walmart. These figures can come from any media like anime, video games, Disney, movies and other titles. Recently, I did an old post about my collection and I am back for an exciting update. I have officially filled one of my cabinets with Pop Funko figures. And yes, these figures are blocking my anime DVD collection too; they my personal protectors. I have two that is not in this picture and on a different shelf because I ran out of cabinet space.
I am going to go over what I collected and how I got them.
1. Kirito from Sword Art Online
Kirito was my very first figure ever owning. I got him in 2017 for a birthday weekend at a trip to Little Tokyo.
2. Donald Duck from Kingdom Hearts (Hot Topic Exclusive)
On my actual birthday in the same year, I bought this exclusive figure from Hot Topic. This was my first exclusive figure. This is Donald Duck from the Kingdom Hearts series in his royal wizard uniform.
3. Goofy from Kingdom Hearts (GameStop Exclusive)
I got this one from GameStop. Unfortunately, I don't remember getting this same day as the exclusive Donald figure or day after. This version of Goofy is in his royal knight uniform from Kingdom Hearts.
4. Tony Stark w/Iron Man Helmet from Spider-Man:Homecoming (Summer 2017 convention exclusive)
I got this one from winning a contest from the official Pop Funko Twitter page. All I had to do was to follow the account and retweet for a chance to win. Winning this was an awesome experience. It was my first convention exclusive.
5-7. Asuna from Sword Art Online + Drax from Guardians of the Galaxy Vol. 2 bobble head (with gun blaster) + Sora from Kingdom Hearts
For Christmas of 2017, I got two figures; one from Sword Art Online and the other was Guardians of the Galaxy Vol. 2. My younger brother got me Drax (carrying a gun) and my friend Allison got me Asuna. Drax is my favorite character in Guardians of the Galaxy. I needed Asuna since I had Kirito and I felt like these two need to stay together. My friend Ezra also got me a figure since he knows I collect them. I got Sora from Kingdom Hearts; this is Sora in his KH2 appearance.
8. Super Saiyan Trunks from Dragon Ball Super (Hot Topic Exclusive)
I got this figure on the same day when Dragon Ball FighterZ was released in January 26th. Of course, I bought him and thanks to my parents encouraging me, I also bought Dragon Ball FighterZ.
9-12. Sonic with a Ring from Sonic the Hedgehog + Shadow the Hedgehog from Sonic the Hedgehog + Dr. Eggman from Sonic the Hedgehog + Crash Bandicoot
I got this sweet deal from the Box Lunch store at a mall. I was happy to snag these babies since I did grew up playing these games and it's nice having toy versions of my heroes and villains. I wish I could have got Cortex in the sale. Now I need to try to get Spyro.
13. Groot from Guardians of the Galaxy Vol. 2
I actually wrote this in a late birthday post a while back. Once again, Allie knows m best. She got me baby Groot to go with my Drax figure, even though the box doesn't say it and this is from movie GotG: Vol. 2.
14 + 15. Mickey Mouse (Steamboat Willie) + Mickey Mouse (Gold Diamond Barnes and Noble edition)
I like to use Twitter to find sales on anything. When I heard the Diamond Mickey Mouse figure was back for limited time at Barnes and Noble, I didn't hesistate. For an added bonus, I bought the Steam Boat Willie version of Mickey Mouse to go along with the golden diamond version. Mickey Mouse did start off in a cartoon called Steamboat Willie.
16. Sora in Guardian Form from Kingdom Hearts III (Fall Convention 2018 exclusive)
As you can tell, I enjoying grabbing exclusives. When I heard there was an exclusive Sora figure being sold at the Walmart site, I unsuccessfully missed out. I was indecisive and debated if I should get this one or buy it with other figures for free shipping. When I told myself to get this one only, I added it to my cart, but then it was too late and it was out of stock. There was other retailers selling it approximately $40 and I thought it was a ridiculous price. The following day, @churozz , an expert in Kingdom Hearts merchandise news, gave an update that the figure was back in stock. Without hesitation, I bought it. This version of Sora is from the upcoming Kingdom Hearts III but with a new form called Guardian Form. There's not much about this new form, but based on videos, Sora is shown fighting Heartless at Hercules world and his keyblade is able to transform into a shield and pummel his foes with incredible power.
17 +18. Venomized Tony Stark/Iron Man + Venomized Steve Rodgers/Captain America
Thank you Barnes and Nobles for your sales. Barnes and Nobles was having a buy one and one half off sale for any Pop figures. As someone who loves Venom and Marvel heroes, I bought these two. As a way to promote Sony's movie Venom, Pop Funko designed these new figures which has the Marvel characters overtaken by the alien symbiotes. Ironically, there is no news of a Spider-Man figure with the black alien on it. I grabbed the Captain America and Iron Man versions to participate for the sale.
19. Sora with Dual Blasters from Kingdom Hearts III (Funko Insider Club from GameStop)
Some exclusives are hidden in websites. I bought this one when I found out from @churozz account that this figure was selling at GameStop. This version of Sora is from one of the trailers of Kingdom Hearts III where Sora can transform his keyblade into a pair of guns.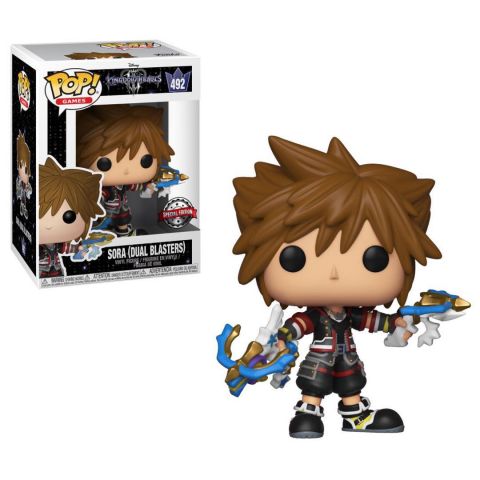 20. Hercules from the Disney movie Hercules (Limited  Edition Glow Chase)
I recently got this from a contest from the Twitter account @fundotcom_ and it was pretty simple to enter. It's a pretty cool figure. I wonder what Glow Chase is.
With all these figures in total, I have 20 figures. Do you collect any Pop figures too? What is your favorite figure you enjoyed from this post or do you have one you cherish the most?
*This is my 87th post on my streak!