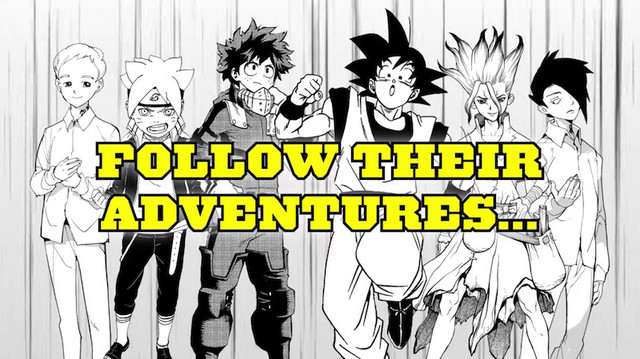 Do you like reading Shonen Jump manga like Naruto, One Piece and My Hero Academia? Do you want to be able to read these manga and support your favorite authors? I got great news for you! It's been announced from Viz and Weekly Shonen Jump that they're planning on starting a premium plan as low as $1.99 for people to read manga!
Hisashi Sasaki, editor of Weekly Shonen Jump in English and Japanese, mentioned that the goal for this new plan is to help bring in new members and fans and help support legal manga. Instead of being called Weekly Shonen Jump, it will be called Shonen Jump.
According to the Viz site, Shonen Jump will begin on December 17th, 2018 (same time as Tumblr will remove all +17 content lol). Free users will access to these here:
FREE chapters of One Piece, My Hero Academia, Boruto, Dragon Ball Super and many more!

Official and same day as Japan!

New chapters weekly!

With new series coming!
However, if you want to pay for the plan and show support, here is what you get even more:
Unlock the Shonen Jump digital vault of 10,000+ chapters

Catch up on current hits from any point, revisit old favorites and discover new series for ONLY $1.99 a month!

Start your 7-day free trial beginning December 17, 2018!

Are you a current paid member? Go here to learn how this change will affect your membership!
You'll get a free trial of the plan. The price is very small if you are doing monthly. You'll get access to a ton of manga chapters from different series.
If you are already a member of Weekly Shonen Jump like me, you will have instant access to the plan and your subscription expiration date will be pushed three months ahead for free. You can read the frequently asked questions if you are already a member and still want to learn more.
Also announced, according to ANN, Shonen Jump will be adding more manga for the line up that you don't usually read in the magazine. Here is what is being added:
Haikyu!!
Demon Slayer: Kimetsu no Yaiba
Chainsaw Man
ne0;lation
Gokutei Higuma (tentative title)
act-age
Jujutsu Kaisen!!
What do you guys think about this new plan? Instead of reading a magazine, you are going to be reading a vault of many chapters from your favorite series on the app and website. You will be able to read manga legally and support the authors without using a shady scanned site.
source:
Viz | Weekly Shonen Jump | FAQ