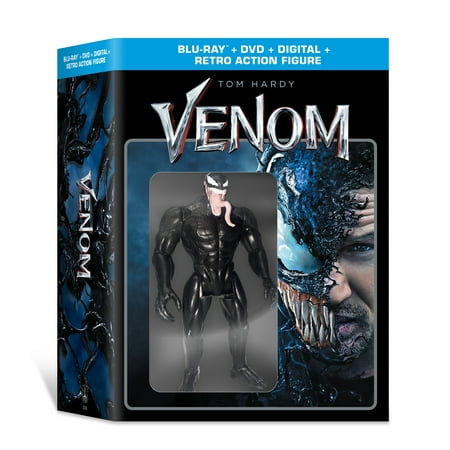 Hello everyone! Welcome back for another fun post from yours truly. I hope everyone had a great weekend. I mentioned a while back that I went to see Venom on October of 2018. It was a fun movie to watch and I like this Venom better than the one from Spider-Man 3. When I heard of news of this movie was ready to preorder for the Christmas season, I quickly placed an order from Walmart. For $30, Walmart was selling an exclusive copy which contains the movie Venom for DVD, Blu-Ray, Digital and even an action figure. The Twitter account for Venom even made a fun 90s video commercial promoting the action figure.
Now that I got this, let me show off some pictures!
The box set for the movie is pretty big, but the action figure itself is quite small. The box is usual cardboard and inside the Blu-Ray case which has the two discs for DVD and Blu-Ray and a redeem code for the digital. The Actio figure is small which is the average size of an action figure. Overall, I say it's a good deal if you want to make use of your money. I will probably do a Venom movie review in the future. For $30, you get all the movie formats along with a nifty figure that is not Pop Funko figure. Walmart does an excellent job on exclusives.