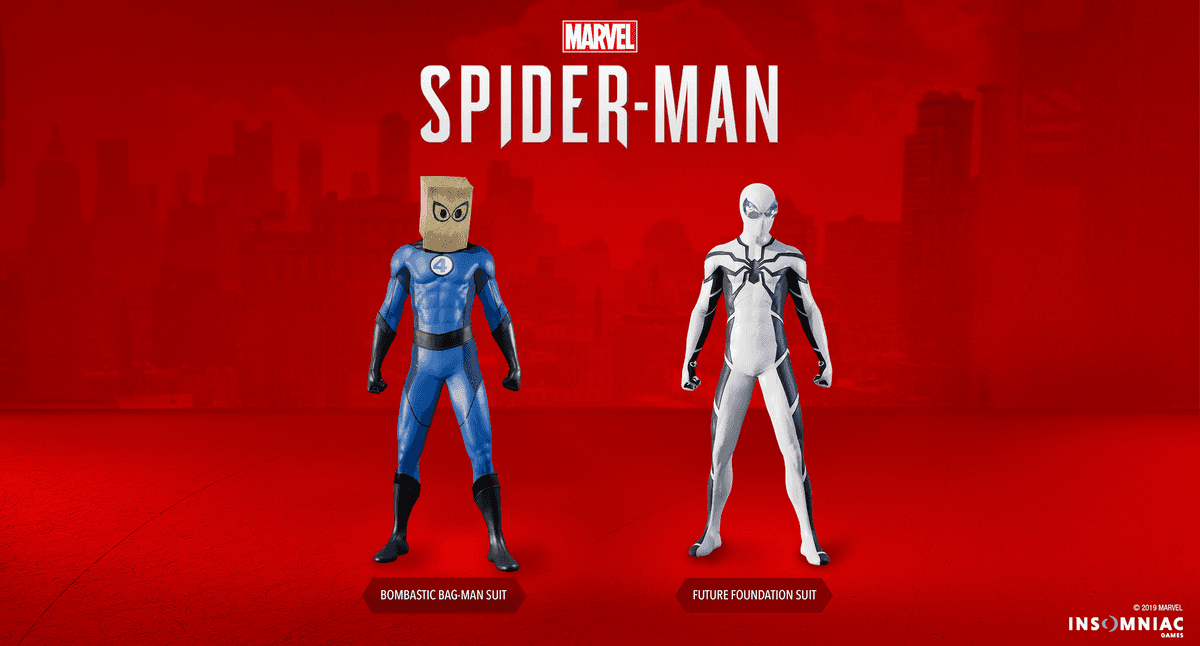 A while back back, Marvel Games sent out a tweet hinting fans and gamers that something "fantastic"is coming for Marvel's Spider-Man for PS4.
Most fans have speculated that it has something to do with the family team Fantastic Four since the profile picture for Marvel Games changed the letter A to 4. For the past weeks, Fantastic Four content has been appearing in Marvel mobile games such as the villain Dr. Doom in Marvel Strike Force and The Thing joining Marvel's Contest of Champions. Now announced today, Marvel's Spider-Man is next for the Fantastic Four content. It's been anounced that this week that Marvel's Spider-Man will be receiving a free update patch called 1.14. This update will give players two costumes for Spider-Man related to the Fantastic Four.
The first costume is the Bombastic Bag-Man Suit and the second costume is the Future Foundation suit. The Bombastic Bag-Man suit made its debut in the Amazing Spider-Man comic issue #258 (1963) where Spider-Man seeks help from Reed Richards (Mister Fantastic) to remove the symbiote suit. This caused Spider-Man to be naked and the Fantastic Four gave him a loan suit while Johnny Storm (Human Torch) gives him a DIY paper bag mask.
For Future Foundation, the suit made its appearance in Fantastic Four #579 (1998). In order to honor Johnny's death, Spider-Man joined the Fantastic Four and the team later renamed the group by calling themselves the Future Foundation. Rather than having the usual blue suits, the team donned the black and white suits.
Source: