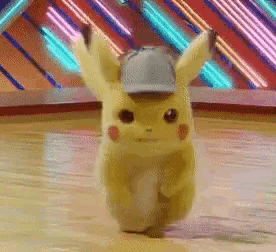 I love this gif.
It's not going to be a review, but more like an experience I want to share. It's going to be a short post.
Going to the movies is my favorite hobby especially since I live near my local theaters. On Wednesday last week, I went to see the movie Detective Pikachu by myself. The movie theaters gave an exclusive Pokemon trading card pack which has two cards. Surprisingly, when I went to find a seat, there was nobody here. In a weird way, I thought it was cool. I felt like I owned this entire place to myself. I truly felt like I was a king like T'challa in Black Panther. All hail the king. The cards I got was a Pikachu card and a Jigglypuff card. The movie itself was actually pretty good. I like Ryan Reynolds voice of Pikachu and seeing Pikachu in live action is so cute. I wish I could hug him but then I might end up getting electrocuted. I would recommend this movie to anyone who still loves Pokemon. This movie gave me vibes and flashbacks from Pokemon: The First Movie.
Having the whole room to myself was an awesome experience in my opinion. Have you ever had the whole place to yourself?