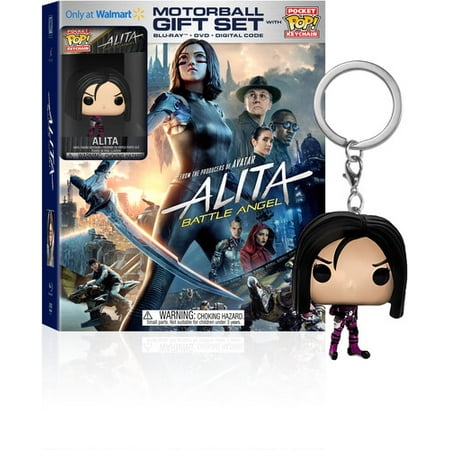 Back in February, there was a sci-fi movie called Alita Battle Angel that got a lot of attention for both sci-fi lovers and manga fans. Alita Battle Angel is based on the manga created by Yukito Kishiro. James Cameron brought this cyberpunk series into the big screen and it got so much love for both audiences. I saw this movie with my brother and we both loved the action of the movie. When I heard the movie was released in DVD, I was ready to place the order. Depending on where you buy your set, some places offer some exclusive goodies like a steelbook case. In Wal-Mart they had a gift set bundle for those who wanted more. Walmart was selling the movie with the DVD, Blu-Ray, Digital and a keychain Pop Funko figure. This set is called the Motorball Gift Set.
As Pop collector, I wanted that Alita figure. In this post, I am here to share you pictures.
I plan to watch this movie and review it in the future. With my Alita keychain pop figure, she is number 32.
32. Alita (keychain)
This is a random picture but after the movie, I wanted more Alita. Here is a picture dedicated to the series. I am hoping to read the manga and get ready for a possible sequel. The pin is from Rightstuf when they were giving away Alita Battle Angel pins on February in partnership with Kodansha, the manga company who license the English manga.