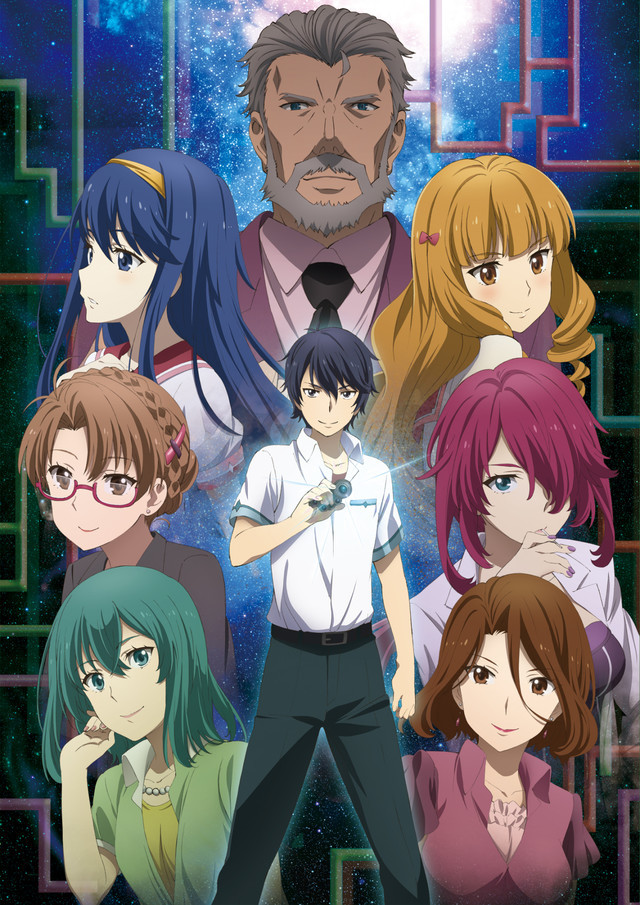 Funimation is one of North America's greatest English Dub licensing companies. They are the ones who helped dubbed great anime like Dragon Ball, My Hero Academia and One Piece. They are pretty big for doing their best to get anime get anime popular all over the world. However, it seems like Funimation also knows hot to tick fans off. Besides the Vic Migogna controversy that is still going on and the whole inappropriate behavior in work field , it appears that they are in trouble once again for changing some dialogue in another anime. In recent news, it is announced that Funimation has gained the English Dub license to the anime YU-NO: A Girl Chants Love at the Bounding of this World. This anime stars protagonist Takuya Arima as strange and unexplained phenomena lead him to travel between parallel worlds in a search for his father, who had supposedly died years ago. It is based on 1996 visual novel and now in 2019, this anime is getting an English Dub thanks to Funimation.
You would think that this is good news for both visual novel and dub fans, but what happens when instead of translating the each dialogue to match up to the original, you instead add something based on your socialopinion or statement. According to news sites Bounding Into Comics and One Angry Gamer, Funimation decides to change the translation by adding a feminist dialogue. This occurs in the first episode where the protagonist Takuya Arima is having a conversation with his friend Mio Shimazu. Here is what is said in the original subtitled version:
Yuki: Wait, boss. You sure know a lot about Shimazu-san. Don't tell me…

Arima: No way in hell do I want to date that ice queen.

Yuki: Yeah, that's right! But you know, Shizamu-san's nice to everybody else, but she's really mean to you. Ah! Shimazu-san!

Arima: Hey. Milday.

Shimazu: Stop calling me that, please.

Arima: Then how about "Mio-chan, the school idol!"

Shimazu: Why do you make me so mad?

Arima: Not sure. That time of the month?

Shimazu: How crude!
Here is the English Dub version created by Funimation:
Yuki: Wait a minute…why do you know so much about Shimazu? Fess up!

Arima: Calm down. I'd never date that ice queen.

Yuki: That's good to hear. It is kinda weird though, because she's nice to everybody. It's only you who really seems to set her off. Ah! Shimazu!

Arima: Hey. So, what's up sweet cheeks?

Shimazu: Don't call me that. You know I hate it.

Arima: Sorry, do you prefer "Queen of the World"?

Shimazu: I'll never understand how you can get under my skin so easily.

Arima: Good question. Maybe it's just that time of the month?

Shimazu: Ah! You're such a misogynist!
It may not be a big issue to some people but some hardcore anime fans may find this offensive because it shows that Funimation would rather meddle with original dialogue and add their own contemporary politics. I like English Dub anime myself but I prefer anime companies focusing on trying to match the original Japanese Dub dialogue. I don't like it when something original gets changed for the sake of fulfilling one's goals or message. This isn't the first time Funimation changed an original dialogue for their own political message. Besides this anime, they tampered in anime such as Miss Kobayashi's Dragon, Prison School, Interview With Monster Girls and My First Girlfriend is a Gal.
Miss Kobayashi's Dragon: dialogue referencing Lucoa's appearance in a hoodie in Miss Kobayashi's Dragon Maid was altered to chastise "pesky patriarchal societal demands
Prison School: the dub of Prison School was changed by voice actor Tyson Rinehart to directly accuse a character of being a "GamerGate creepshow.
Interview With Monster Girls: bullies negatively accusing a character of being a "social justice warrior" for standing up to them.
My First Girlfriend is a Gal: featured embarrassing references to speeches made by President Trump and 'strawman' rhetoric which equates those who enjoy anime fan service to "jailbait" loving "freaks who hate women."
Besides this news, are you interesting in watching YU-NO?