2022 is going to be a long wait for Spider-Man fans. It was announced by Marvel and Sony that 2018's animated movie Spider-Man: Into the Spider-Verse is going to be getting a sequel. The sequel will be out in theaters on April 8th, 2022. It looks like Miles Morales and Peter B. Parker are going to be meeting some new Spider-Men versions. In a old post I wrote, movie co-producer and writer Phil Lord commented on Twitter that if Spider-Verse makes a lot of money and break records reaching $200 million, he would consider adding the Japanese live action Tokusatsu version Spider-man or also known as Supaidāman.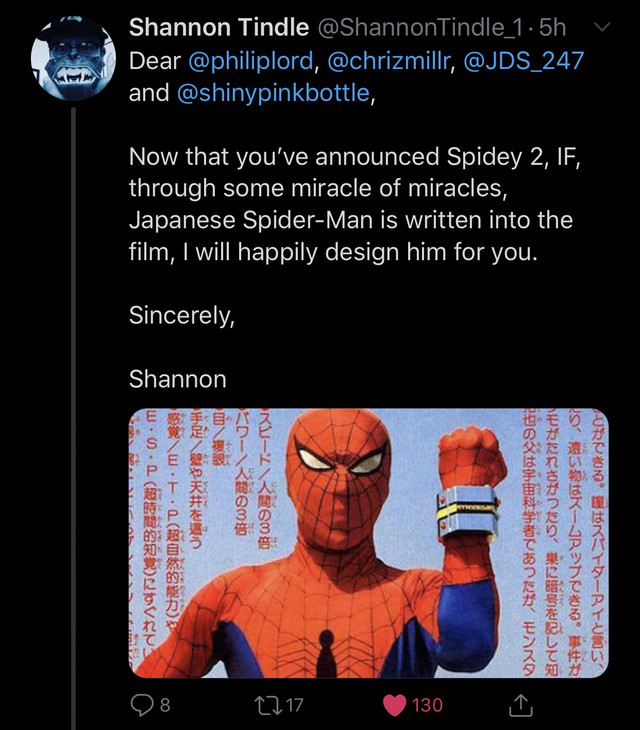 Tokusatsu Spider-Man synopsis:
1978 Spider-Man tokusatsu series is well known inside and outside the genre, both as a curiosity and as a sign of just how widely popular the Marvel hero is. This iteration of Spidey is a biker named Takuya Yamashiro, who gains his powers after a blood transfusion from the last warrior of Planet Spider. As Spider-Man he can perform all the heroic feats we're used to, plus transform the ship Marveller into the giant robot Leopardon.
source: