I want to thank Keiko from Keiko's Anime Blog for nominating me for the Real Neat Blog Award. It's been a while since I got nominated but I am happy to get this award and participate. Go check out her post when you are done with reading my post. I enjoy these award posts and I thank you for taking the time reading my articles. When it comes to awards, I am always up for a challenge.
The Rules:
Display the logo.
Thank the blogger that nominated you and share a link to their blog.
Answer the questions of the one who nominated you.
Nominated 7-10 bloggers.
Ask them 7 questions.
Keiko's questions:
What's your favourite genre of anime?
Is there an anime you wish you had watched last year but didn't get the chance to?
If you could have any pet from an anime, what pet would you pick?
Do you prefer watching anime weekly as it comes out or binge watching it once it has finished airing?
What anime from this season surprised you in its first episode?
Is there an anime you were looking forward to this season which left you underwhelmed after the first episode?
Is there an anime character that you feel is similar to you? If so, who?
My Answers:
1. I like action anime especially from Shonen anime like Dragon Ball, One Piece and Naruto. I also have a soft spot for fantasy series like Isekai anime.
2. It's not a series but I missed out on watching this movie. I really wanted to see Promare. I heard this anime was a combination of Fire Force and Gurren Lagann. I really like Studio Trigger and their worlds like Gurren Lagann and Kill la Kill and I heard the dub for this movie was pretty good.
3. I would want Pina from Sword Art Online. I think it would be cool to have a dragon pet.
4. Out of the two, I would prefer binge watching an anime. I want to sit down and watch through an anime in completion.
5. The anime Do You Love Your Mom and Her Two-Hit Multi-Target Attacks? definitely surprised me in the first episode. Not only the title caught me off guard but the first episode was really different. I would never imagine seeing an Isekai anime featuring a protagonist and his mom. 
6. As far as I know, there hasn't been any anime that made me feel underwhelmed.
7. I feel like Geomon from Lupin the 3rd is somewhat I feel I can have some similarities. Reason why is because if I am not doing anything, I am just kicking back and making comments and just watching afar. In my blogs, if I feel like writing, I jump right into my lap top and write away. If I am not online, I am away and just enjoying some peace and quiet.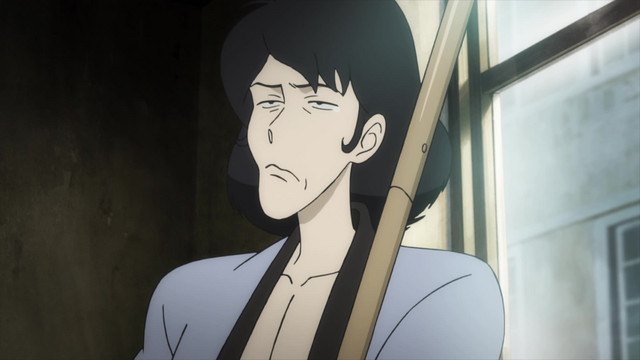 Now that I am done answering questions, it's my turn to nominate people to do this post!
Here is my 7 questions for you guys:
What anime item would you want to have in real-life?
What is the most cringiest thing you ever heard in the anime community?
Are you a secret otaku or an open otaku? Meaning, do you tell everyone you love anime and manga or do you keep your passions a secret?
What is one anime series you can never get tired of watching?
What is your favorite anime waifu/husbando?
What anime character do you despise the most?
If you been to the movies, what was the recent anime film did you see in theaters?