With a potential Marvel's Spider-Man sequel and for the upcoming PlayStation 5, we can only hope that the next Spider-Man game will surpass the first game that was released in 2018. One of the fun moments while playing the first game is the ability to unlock Spider-Man costumes. These costumes originated from comic books such as 2099, Noir and some come from movies such as the iconic Sam Raimi and Iron Spider suits. Some are silly like Spider-Man in his underwear or with a college t-shirt. As players unlock them, they gain special abilities like the Iron Spider suit allows Spider-Man to grow extra limbs for extra damage and the Noir suit allows him to do stealth without detection. If everything goes well with Sony and Insomniac Studios, we can hope whatever costumes that didn't make it in the first game will appear in this game. In this list, I want to share my top 5 costumes I would love to see appear in the sequel. Not only I will list my top 5 costumes, but I will also briefly describe the ideal ability for each one.
5. Symbiote Spider-Man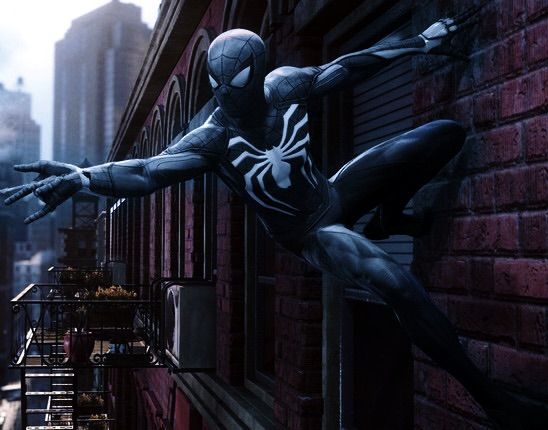 Surprisingly, this costume never made it in the game and not even as a DLC. The symbiote suit (also called the black suit) is Spider-Man fan's favorite costume in all media such as movies, cartoons, video games and comics. Comic book veterans will know that the symbiote suit came from Marvel's 1984 crossover Secret Wars in which Spider-Man dons a mysterious black suit after his red and blue clothes are damaged. In Amazing Spider-Man #252, Spider-Man keeps the suit and uses it for crime fighting. Unfortunately, he finds out the suit is actually a living alien that wants to use Peter as a host. Peter ditches the alien but ends up taking over a new host named Eddie Brock and he becomes Venom.
If Marvel's Spider-Man sequel includes characters like Venom and Carnage, it would be cool to see Peter wear the symbiote suit along with his Advanced Suit as part of the story. For the ideal ability, players who wears the suit will give players unlimited webbing and tech for a limited. Just like in the comics where the symbiote gave Spider-Man unlimited webbing, the suit will give players unlimited use of webbing and tech.  In similarity, this suit would play like Spider-Man's Anti-Ock suit.
4. Octo-Spidey (Spider-Man Earth-11983)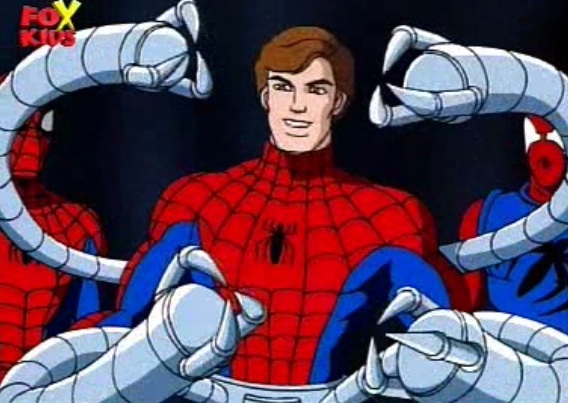 I don't much about this Spider-Man other than the fact he makes an appearance in the 90's Spider-Man: The Animated Series and I am assuming he makes an appearance in the infamous Clone Saga. This version of Spider-Man utilizes Dr. Otto Octavious's mechanical tentacles. If this was added in the game, players could play the suit as if it was the Iron Spider and give extra reach and power to enemies.
3. Spider-Phoenix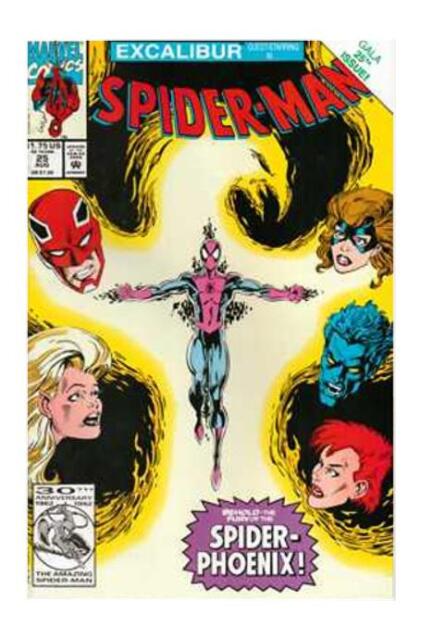 This is another version of Spider-Man I don't know about. According to CBR and ComicVine, this version of Spider-Man is from Spider-Man issue 25 in annual comic with the Excalibur crossover. During this crossover, Spider-Man and the Excaliburs are up against the villain Arcade. Arcade has trapped the heroes in his Murderland and pitting them in a battle royale. By using the technology against him, Spider-Man uses Arcade's illusion technology and scare him by pretending he is has the Phoenix in him and thus becoming Spider-Phoenix (trying to imitate Jean Grey's Phoenix powers). Even though Spider-Man never obtains the power of the Phoenix, in video games, players can use it. In the PS1 game Spider-Man 2: Enter Electro, players can unlock this version of Spider-Man and the game's narrator Stan Lee states it gives the player invulnerability.
Even though invulnerability is cool, I would like thinking of using the suit as if it was the Scarlet Spider. Players would use the ability to project holograms to trick enemies thinking they are fighting the real Spider-Man.
2. The Amazing Spider-Man suit (Marc Webb 2012)
Like most of anything in a franchise, there is always a black sheep. The Amazing Spider-Man had potential, but it flopped big time and failed to get a third film. Andrew Garfield may not have been Tobey Maguire nor Tom Holland, but he did his best to give us a good Spider-Man despite Sony trying to push many story plots. Garfield became Spider-Man in Sony's reboot The Amazing Spider-Man after the director Sam Raimi left due to creative differences, The movie was directed by Marc Webb and he helmed even the sequel. Reason why I picked this version since it feels weird that the first game didn't include this suit, but rather include Raimi's suit and the Stark Suit (Tom Holland suit). They even included the Spider-Verse and both suits from Far From Home. For abilities, I am not sure what to give for this suit. It would probably be a default suit like the other DLC costumes.
1. Spider-Man/Takuya Yamashiro (a.k.a. Supaidaman)
This is a bizarre request to ask, but I would like to see this Spider-Man in the sequel. This version of Spider-Man comes from Japan in which a man named Takuya Yamashiro becomes Spider-Man and fights evil in Japan. Unlike Peter Parker, this Spider-Man can summon a giant robot mech named the Leopardon and fight monsters. This Japanese show helped spawn the beginning of the Super Sentai franchise which is also leads to the creation of the Power Rangers. Despite this Spider-Man being vintage, it has made an appearance in the comic Spider-Verse and it is mentioned by Spider-Man: Into the Spider-Verse director that this Spider hero will be in the sequel.
If this was in the game, I would imagine this suit give players the same ability as the Stark Suit. This Spider-Man will call out a mini spider drone and help the player fight the bad guys. If the player is wearing the suit, Spider-Man wll instead say Leopardon and the spider drone will be replace as a tiny Leopardon drone instead.
This is my top five suits I would like to see in the sequel. What is your choices?
If you like my articles, feel free to donate to help support my site:
Before I officially end, here is my most honorable mentions:
Homemade Black Suit
When things get serious for Spider-Man, he doesn't wear the red and blue suit, he goes all black. Unlike the symbiote, this is a homemade suit Peter has crafted as back up for his costumes. He doesn't wear it often since it scares Mary Jane during the time when Venom was born and she got terrified of him. However, like I said, this suit when worn means Spider-Man is not playing around with his enemies. He is not quipping. he is beating enemies in a pulp. Spider-Man has worn this in many comics such as facing against Kraven the Hunter, in a what-if story where he kills Kingpin for killing Mary Jane and in alternate future stories like Renow Your Vows and Reign.
If this was in the game, I would see this having the same ability as the Noir suit or Last Stand. With the Noir ability, Spider-Man can sneak up and perform stealth attacks without detection. In Last Stand, he would deal serious damage on enemies including some with shields and taser weapons.
Superior Spider-Man
What if Spider-Man was more assertive on his job of duty and it wasn't Peter. This version of Spider-Man is not the same Spider-Man we know. Superior Spider-Man is actually Dr. Otto Octavius in Peter's mind. In the comics, Otto steals Peter's body and tries to be a better Spider-Man by dealing with criminals in his own way. Unfortunately, Otto realizes that even with his high intelligence and his access to technology, he could never be Peter. Otto returns Peter to his body and he accepts death.
If this suit was included in the game, I would imagine it being played as the Iron Spider suit due to them having the same ability to using extra spider legs for combat.
It would be a plot twist if Otto from the first game returns to this sequel and ends up becoming this Spider-Man.
Venomized Spider-Man
I don't know much about this version of Spider-Man except for the fact this version will be appearing in the third season of Disney XD's Marvel Spider-Man cartoon series. The third season will be released in the spring and it will be called Maximum Venom. Spider-Man will have to deal with facing the Marvel heroes in possession of the symbiotes. In a promo and even in a Funko Pop, Spider-Man comes in contact with the symbiote but the alien attaches to him partially and he resembles something similar to Anti-Venom.
For his abilities, I would imagine it having the same abilities as the Advanced Suit but with an added bonus. The suit will give Spider-Man fast charge in his special abilities for takedowns and recover health.
That is the end of my honorable mentions!