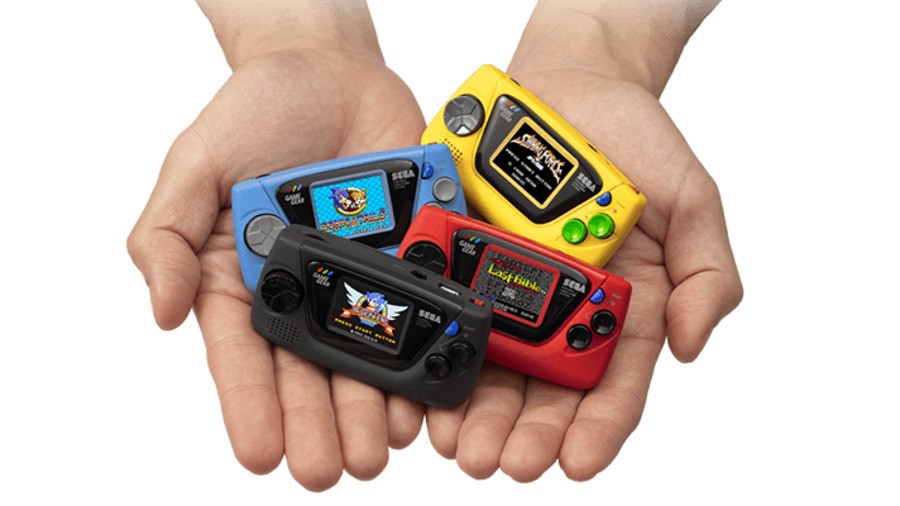 Remember the Sega Geneis Mini console, Sega is back again with re-releasing miniature versions of gaming consoles. Instead of a console, Sega is bring back the portable Sega Game Gear. According to IGN, as a way to promote the 60th anniversary of SEGA, the company announced the Sega Game Gear Micro. For now, this mini console is going to be released in Japan on October 6th with a price of 4,980 yen (roughly equates to £40 or $50); there is no news for a global release. This game is the size of  person's palm and this game includes a headphone jack, a USB charge drive and two triple AAA batteries. There are four colored Game Gears each with different games installed.
Black
Sonic the Hedgehog
Puyo Puyo 2
Out Run
Royal Stone
Blue
Sonic & Tails
Gunstar Heroes
Sylvan Tale
Baku Baku Animal
Yellow
Shining Force 1
Shining Force 2
Shining Force Gaiden: Final Conflict
Nazo Puyo: Arle no Roux
Red
Revelations: The Demon Slayer
Megami Tensei Gaiden: Last Bible Special
The G.G. Shinobi
Columns
I will keep you guys updated if there is any news for a global release. What do you think about this Game Gear Micro?