6th Monthly Topic: Mindfulness
If we don't take care of our minds and souls, we will always be in pain.
For the past few months, things have been pretty hectic. Everyone's lives have changed to some degree, and we can't help but feel anxious, nervous, and overwhelmed. This month we will be focusing on ourselves and keeping a strong peace of mind with our theme, "Mindfulness." We will be analyzing characters that have crafted and practiced their own philosophy on life and have spread their beliefs to others. We will also be talking about habits, hobbies, and things that are keeping us sane, positive, and peace within our souls.
If you like my blog and want to support it, feel free to donate my Ko-fi:
Please be sure to read Jack's post about March Comes in Like a Lion.
Time has changed the old world
Here we are in June and life has not been well for us in this Earth. With outbreaks like COVID-19 all over the countries, it's hard to find the bright side of life. Schools are forced to be cancel as well as events and conventions. Business are shut down and leaving people unemployed. With this current event, guidelines are made in order to prevent any fatal illness in which people must maintain six feet of personal space and wear masks to avoid spread germs. With this unexpected turn of events, this has led people to live in fear and feel helpless. We are in this world where all hope feel lost and the days feel like gloomy cloud hiding the sun. . However, there are people out there in the world who will despite this new world order, they will make the best of it and continue to bring fun in life.
Sonic X – An anime based on everyone's blue speedster hedgehog
Based on the popular video game, anime was created by a partnership between TMS Entertainment and Sega. TMS Entertainment is a company studio well-known for doing anime like Detective Conan and Lupin the 3rd; they also specialize in Western animation like Batman: The Animated Series, The New Adventures of Winnie the Pooh and Animaniacs. Sonic X made its Japanese debut in April 6th, 2006 to March 28th, 2004 and then got a global release from 2005 to 2006. The anime got dubbed by 4Kids who is well-known for anime such as Pokemon and Yu-Gi-Oh! and the DVD rights are owned by Discotek Media. Sonic X has a total of three seasons consisting a total of 78 episodes.
In the first season, Sonic along his friends and even Dr. Eggman has appeared to a new world where meet regular humans through Chaos Control. With the help of a rich kid named Christopher Thorndyke, Chris helps Sonic and his friends take shelter at his house and hopes to find the rest of the Chaos Emeralds to send them home, while also preventing Dr. Eggman establishing his Eggman Empire on the new world. Second season focuses on the anime adaptation of the Sonic Adventure games where Sonic and his friends take on enemies such as Chaos and also the ultimate life form Shadow the Hedgehog. The final season pits Sonic and his friends against a mysterious alien group called the Metarex in their universe and it's up to them to fight back.
With this information, I plan to use this anime and integrate it to this OWLS blog tour.
Episode 1- New world? Where am I?
Right off the bat, the first episode begins with a rescue mission where Sonic and his friends try to save Cream and Cheese from Dr. Eggman.  Despite making it on time, Sonic and Dr. Eggman fight and during the fight, they accidentally activated one of Eggman's technology with a Chaos Emerald. The technology causes a powerful Chao Control and warped everyone to another universe. In this new world, Sonic encounters humans and the authorities tries to catch, but in a predictable manner, Sonic gets away from the police. As Sonic escapes from the cops, Sonic accidentally falls into a mansion's swimming pool and gets trapped since he doesn't know how to swim. With the help of a kid named Christopher Thorndyke, Chris saves Sonic and keep him sheltered and away from the authorities.
After episode 1, the series focuses on Sonic and Chris has they try to find Sonic's other friends and learn more about the new world. However, they also have to avoid causing attention government officials and also trying to stop Dr. Eggman from trying to conquer the new world. The main plot of the first two seasons is a battle between Sonic and his friends against Dr. Eggman and trying to collect all seven of the Chaos Emeralds to return home.
Sonic and Eggman – A new world to help and to overcome new challenges
Despite being separated from their home world, you would think Sonic and his friends would worried about being stuck forever; surprisingly, Sonic and his friends turned this negative turn of events into something positive. Through out the adventures in the anime, Sonic and his friends has worked together and stopped Dr. Eggman from trying to take over the world. When Sonic is not smashing robots, he's making time for his friends. In one episode, he is helping a handicapped child and pick flowers, another time he is racing with Chris's uncle Sam to see who's the fastest. When he is not doing these heroic deeds, Sonic makes time for his friends; this includes him even saving Dr. Eggman when he is outnumbered (in episode 50). In a ironic way, Sonic is not a rush to get back. With his speed and other skills, Sonic will use them to help the people around him and make new friends.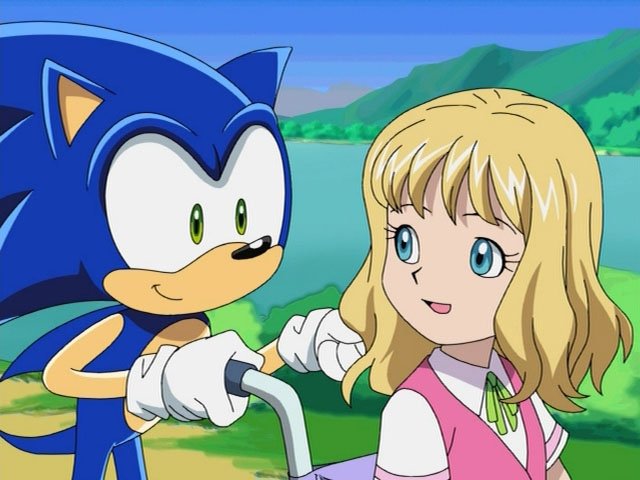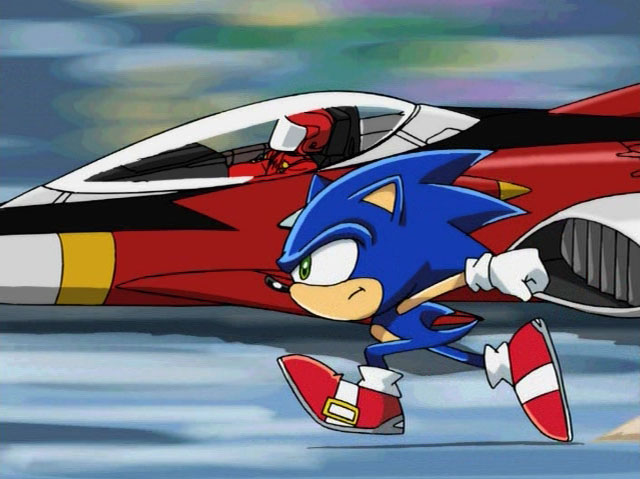 Similar to Sonic, Dr. Eggman has no urgency to return back to their old home either. Even though he did not plan on getting warped into this new world, Dr. Eggman will still follow his dream of building his Eggman Empire. Notice how in the anime even he has vast knowledge on technology, he doesn't use his skills to rebuild a system to return home or even trap Sonic and his friends and send them back. Knowing the way Dr. Eggman thinks, he wants to win, but he wants to prove that he can overcome challenges including outsmarting Sonic's speed and his friends. He sees this opportunity to improve himself and test his knowledge in a world where he has to go against Sonic and Chris' world.
In short, Sonic's view in this change allows him to meet and make friends. With his speed, Sonic gets to explore new areas and everyday is an adventure. Dr. Eggman takes advantage of the situation and tests his skills. In a new Earth like this, Dr. Eggman sees this as opportunity to learn about the world and see how he can use it for his benefit. These two might as well be two sides of a coin, but they have something in common: they embrace the changes and doesn't fret about the future.
Chris: Unable to accept
Unlike Sonic and Eggman, there people out there in the world that find it difficult to accept upcoming changes; ironically, we have Chris, a kid who lives in his Earth and takes for the changes to settle in. When we first meet Chris, he finds it a challenge when he tries to hide his friends from the media, government and even his closest peers. However, after a while, Sonic and his friends later found their place in Chris' world and they become close as regular citizens. For most fans in the show, they have a bitter taste for the Chris for this one main reason: Chris has the fear losing his friends despite wanting to help them return home. Chris fear of losing Sonic occurs actually more than once in the last few episodes of season 1 and 2. Personally, the one that really hits the nail is episode 49 of season 2, "The Beginning of the End". In this episode, Sonic and everyone finds out that time is stuck in Chris' world ever since Sonic and the gang came to his world from Chaos Control. In result, time can't progress and everyone remains the same unless Sonic and his friends and Dr. Eggman return back to their world to restore time. This puts a strain for Chris and he quickly assumes that it's all Dr. Eggman's fault, but in a plot twist, Dr. Eggman gives Chris a cold reality check. Dr. Eggman bluntly tells Chris that he has to accept facts and all things have to come to end. (watch 17:00 in the video).
People may not have to deal with what Chris went through with friends and parallel earths, but people can relate to his behavior. Some people can't handle changes and they quick to deny the truth and find a scapegoat.
Conclusion: Going with the flow of time in a calm, mindful mood.
Whether if it's fiction or not, once the world goes through changes, it can leave people with unsettling feelings. However, with news like COVID-19, just because the world is undergoing drastic changes, you shouldn't have to live in fear or anxiety. In Sonic's perspective, you can take the time to go and help others, use the skills you have to uplift people's spirit. For Dr. Eggman, you can use this time to take on challenges and make use of things around you. Don't create giant robots, but use the skills to benefit others. During this crisis, my grandma has been using her time to make masks for the family. If you can knit or do any of crafting, it is now the time to use it and help others.
Take someone like me during COVID-19. Ever since this virus outbreak took over the world, I became unemployed. With no source of income, I couldn't find work and this really took a toll on my positive attitude. The only people that could work was essential workers and my job wasn't in that group. While my dad and brother worked, I felt left behind and the only thing I can do is help my mom at home. In a surprising turn of events, my boss helped me find a job opportunity to serve and help people by doing grocery deliveries for the community. I thank God for allowing me to work even if it was temporary. Rather than complaining, I was grateful that I was helping. I used most of my free time to help others and make use of my car to explore uncharted areas. This temporary job gave me the chance to grow as a person and it allowed me to brighten someone's day in this time of darkness.
What can you do that help?
Now that I am finished, please go and check out Hikari's post on June 11.